The Comedy Network Releases Official First-Look Photos from CORNER GAS ANIMATED
In anticipation of the debut of CORNER GAS ANIMATED and the launch of the Dog River Walking Tour in Rouleau, SK, The Comedy Network has released a first look at some of Dog River's most iconic locales, re-imagined. From Emma and Oscar's house, to Foo Mart and Dog River Hotel, fans can catch a sneak peek of their favourite fictional town…animated! Photos are available for download at https://www.cornergas.com/attractions.html.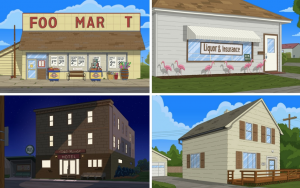 The 13-episode, half-hour animated version of the acclaimed, smash-hit comedy franchise CORNER GAS from 335 Productions and Vérité Films is set to premiere on Comedy in 2018.
Brent (Brent Butt), Lacey (Gabrielle Miller), Oscar (Eric Peterson), Hank (Fred Ewanuick), Davis (Lorne Cardinal), Karen (Tara Spencer-Nairn), Wanda (Nancy Robertson), and Emma (Corrine Koslo) are all getting a cartoon makeover as the main cast returns to Dog River for CORNER GAS.