CORNER GAS ANIMATED Becomes the Most-Watched Series Premiere in the
History of The Comedy Network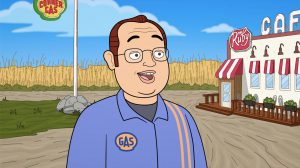 –Premiere episode "Bone Dry" draws 360,300 viewers to date, the biggest debut in Comedy's history –
– All new episodes air Monday nights at 8 p.m. ET/PT–
– Viewers can catch up on past episodes on demand through Comedy GO and TheComedyNetwork.ca –
April 9, 2018
TORONTO (April 9, 2018) – In advance of its second episode airing tonight, The Comedy Network confirmed today that the series premiere of CORNER GAS ANIMATED has become the highest-rated debut in The Comedy Network's history. With just four days of preliminary playback data for the premiere, Numeris data confirms that 360,300 viewers so far have watched the April 2 debut episode "Bone Dry".
With final playback data still to come, the premiere episode of CORNER GAS ANIMATED surpasses the series premiere of ANGER MANAGEMENT, which was previously the top-rated series debut on Comedy, dating back to 2012. In addition to setting a record for Comedy, CORNER GAS ANIMATED was the #1 entertainment specialty program on Monday, April 2 among all key demos (A18-34, A18-49, and A25-54).
"The CORNER GAS team have once again delivered for audiences and fans," said Pat DiVittorio, Vice-President, CTV and Specialty Programming. "CORNER GAS ANIMATED has reinforced the franchise's history of making history. We couldn't be happier to welcome them back and have this record-breaking series lead Comedy's line-up."
In the all-new episode "Squatch Your Language," (Monday, April 9 at 8 p.m. ET/PT), Wanda (Nancy Robertson), Hank (Fred Ewanuick), and Lacey (Gabrielle Miller) attempt to trick Brent (Brent Butt) with a Sasquatch hoax. Davis (Lorne Cardinal) and Emma's (Corrine Koslo)  obsession with the fantasy TV show THRONE STRIFE forces Karen (Tara Spencer-Nairn) and Oscar (Eric Peterson) to spend time together.
Viewers can catch up on past episodes of CORNER GAS ANIMATED on demand through Comedy GO and TheComedyNetwork.ca. All 107 episodes of the original six-season series CORNER GAS, as well as the feature film, CORNER GAS: THE MOVIE, are streaming now on CraveTV.
CORNER GAS ANIMATED is an inter-provincial co-production produced by Prairie Pantoons (BC), comprised of Brent Butt and David Storey from 335 Productions; and Moving Mountoons (ON), comprised of Virginia Thompson and Robert de Lint from Vérité Films, in association with Bell Media, Canada Media Fund, Ontario Film and Television Tax Credit, Ontario Computer Animation and Special Effects Tax Credit, Film Incentive BC Tax Credit, Digital Animation, Visual Effects and Post Production Tax Credit, Canadian Film or Video Production Tax Credit. Animation is produced by Prairie Pantoons, Moving Mountoons, and Smiley Guy Studios. Sarah Fowlie is Director, Original Production, Comedy, Bell Media. Executive for Bell Media is Chris Kelley. Corrie Coe is Senior Vice-President, Original Production, Bell Media. Pat DiVittorio is Vice-President, CTV and Specialty Programming; Mike Cosentino is President, Content and Programming, Bell Media. Randy Lennox is President, Bell Media.