Corner Gas: The Movie "Gasses Up" as Production Gets Underway
– Feature film and holiday television event from the smash hit Canadian franchise CORNER GAS now shooting in Regina and Rouleau, Saskatchewan – Starring original ensemble cast Brent Butt, Gabrielle Miller, Eric Peterson, Fred Ewanuick, Janet Wright, Lorne Cardinal, Tara Spencer-Nairn, and Nancy Robertson – Guest-starring Graham Greene, Don Lake, Reagan Pasternak, Will Sasso, Saskatchewan-native Darren "Dutchy" Dutchyshen, Jay Onrait, and Dan O'Toole – Directed by CORNER GAS television series director, David Storey – Kickstarter wraps reaching nearly three times the target goal and 2,500 backers –
REGINA / ROULEAU (June 23, 2014) – Bell Media, Telefilm Canada, and Prairie Pants Distribution are pleased to announce that production is underway on Corner Gas: The Movie. The 90-minute feature film began shooting yesterday in Regina and Rouleau, Saskatchewan. Production continues until July 22, 2014.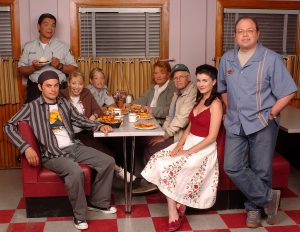 "The entire cast is back and we are all so thrilled to be shooting in Saskatchewan," said Executive Producer Virginia Thompson. "We look forward to bringing our fans a Corner Gas movie they will cherish for years to come!"
Guest-starring in cameo roles are: actors Graham Greene (The Green Mile, Dances with Wolves), Don Lake (LIFE WITH BONNIE, Waiting for Guffman), and Reagan Pasternak (BEING ERICA, Welcome to Mooseport); comedian Will Sasso (MADtv, Best in Show); and sports commentators Darren "Dutchy" Dutchyshen (SPORTSCENTRE), Jay Onrait (FOX SPORTS LIVE) and Dan O'Toole (FOX SPORTS LIVE).
Corner Gas: The Movie's Kickstarter Campaign, a 30-day campaign promoting fan engagement through exclusive rewards and once-in-a-lifetime behind-the-scenes experiences, wrapped on June 18. Fan response has been overwhelming, as 2,500 backers have contributed nearly three times the target goal. The campaign reached 100% of its initial goal in just one day. The top reward went to Saskatoon philanthropist Bart Hunter – an opportunity to host a private screening with Brent Butt, bringing the world- debut of Corner Gas: The Movie to Saskatoon and turning it into a charity event. Support came from fans around the world, including Canada, the U.S., U.K., Europe, Australia, and as far afield as Saudi Arabia, Oman, India, China, Japan and Kyrgyzstan.
It's been five years, and there's still not a lot going on 40 kilometers from nowhere. But that's all about to change as the fine folks of Dog River, Saskatchewan face their biggest crisis ever. Brent and the gang discover that the town's been badly mismanaged, leaving residents with little choice but to pack up and leave. As residents make one last rally to save Dog River as they know it, they discover a devious plan by a corporate giant that would change life for Dog Riverites forever.
Headlined by creator and comedian Brent Butt, Corner Gas: The Movie stars the original award-winning ensemble cast including Gabrielle Miller, Eric Peterson, Fred Ewanuick, Janet Wright, Lorne Cardinal, Tara Spencer-Nairn, and Nancy Robertson. Written by Brent Butt, Andrew Carr, and Andrew Wreggitt, the movie will be directed by David Storey, who served as key director on the series.
Corner Gas: The Movie will roll out as a national multi-platform event in November and December. The landmark feature film will open with an exclusive Cineplex Front Row Centre Events theatrical debut across Canada, followed by premieres on The Movie Network, CTV, and The Comedy Network, and complemented by a special collector's edition DVD to be available for purchase before the holidays.
CORNER GAS the television series was originally developed by Brent Butt, Mark Farrell, David Storey, and Virginia Thompson for CTV and The Comedy Network. It premiered January 22, 2004 on CTV with 1.15 million viewers and was a runaway hit. Dog River became a favourite Canadian television destination. During its entire six- season run, CORNER GAS was the #1 Canadian sitcom in Canada, maintaining an impressive average audience of 1.4 million viewers over its 107-episode run. The series finale made television history when a record-breaking 3.02 million viewers tuned into the series finale on April 13, 2009. It was a new audience high for CORNER GAS and is still the largest audience on record for a Canadian scripted television series.
Corner Gas: The Movie is an inter-provincial co-production produced by Corner Gas The Movie (SK) Inc. and Corner Gas The Movie (ON) Inc. in association with Bell Media, Telefilm Canada, Cineplex Inc., Tourism Saskatchewan, Creative Saskatchewan and the Canada Media Fund. Executive producers are Virginia Thompson, Brent Butt and David Storey. Saskatchewan producer is Jack Tunnicliffe. Janice Dawe is consulting producer. Victoria Woods is line producer. Kara Haflidson is production executive for Bell Media. Sarah Fowlie is Director, Independent Production, Bell Media. Corrie Coe is Senior Vice-President, Independent Production, Bell Media. Mike Cosentino is Senior Vice-President, Programming, CTV Networks. Phil King is President – CTV, Sports, and Entertainment Programming. Corner Gas: The Movie is distributed worldwide by Prairie Pants Distribution. The Collectors DVD will be distributed across Canada by Video Services Corp. (VSC).
WEBSITE:
SOCIAL MEDIA LINKS:
About Bell Media
With passion and an unrelenting commitment to excellence, Bell Media creates content and builds brands that entertain, inform, engage, and inspire audiences through the platforms of their choice. Bell Media is Canada's premier multimedia company with leading assets in television, radio, out-of-home advertising, and digital media. Bell Media owns 30 local television stations led by CTV, Canada's #1 television network; 35 specialty channels, including TSN and RDS, Canada's most-watched specialty channels in English and French; four pay TV services, including The Movie Network and Super Écran; and is managing shareholder of premium pay-per-view service Viewers Choice Canada. Bell Media is also Canada's largest radio broadcaster, with 106 licensed radio stations in 54 markets across Canada. Bell Media owns Astral Out-of- Home, one of Canada's most dynamic and innovative out-of-home advertising companies with a network of more than 9,500 advertising faces in Québec, Ontario and British Columbia. Bell Media also operates more than 200 websites, delivers TV Everywhere with its innovative GO video streaming services, including CTV GO, TMN GO and Bravo GO, and owns Dome Productions Inc., a multi-platform production company. Bell Media is part of BCE Inc. (TSX, NYSE: BCE), Canada's largest communications company. For more on Bell Media, please visit www.bellmedia.ca.
About Telefilm Canada
Telefilm is dedicated to the cultural, commercial and industrial success of Canada's audiovisual industry. Through its various funding and promotion programs, Telefilm supports dynamic companies and creative talent here at home and around the world. Telefilm also administers the programs of the Canada Media Fund. Visit telefilm.ca and follow us on Twitter at twitter.com/telefilm_canada or on Facebook at facebook.com/telefilmcanada.
About Cineplex
Cineplex Inc. ("Cineplex") is one of Canada's leading entertainment companies and operates one of the most modern and fully digitized motion picture theatre circuits in the world. A top-tier Canadian brand, Cineplex operates numerous businesses including theatrical exhibition, food services, gaming, alternative programming (Front Row Centre Events), Cineplex Media, Cineplex Digital Solutions, Cineplex Digital Networks, and the online sale of home entertainment content through CineplexStore.com and on apps embedded in various electronic devices. Cineplex is also a joint venture partner in SCENE – Canada's largest entertainment loyalty program.
Cineplex is headquartered in Toronto, Canada, and operates 162 theatres with 1,638 screens from coast to coast, serving approximately 77 million guests annually through the following theatre brands: Cineplex Odeon, SilverCity, Galaxy Cinemas, Scotiabank Theatres, Cineplex Cinemas and Cineplex VIP Cinemas presented by Scotiabank. Cineplex also owns and operates the UltraAVX, Poptopia, and Outtakes brands. Cineplex trades on the Toronto Stock Exchange under the symbol CGX. More information is available at cineplex.com.
About Prairie Pants Distribution
Prairie Pants Distribution Inc. is the world-wide distributor of CORNER GAS: THE MOVIE. The company is owned and operated by CORNER GAS Executive Producers Brent Butt (Sparrow Media: CORNER GAS, HICCUPS and NO CLUE), David Storey (Aslan Entertainment: CORNER GAS, HICCUPS, KEEP YOUR HEAD UP KID: THE DON CHERRY STORY, BLACKFLY) and Virginia Thompson (Vérité Films: CORNER GAS, INSECURITY, RENEGADEPRESS.COM and INCREDIBLE STORY STUDIO).