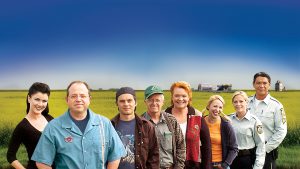 Corner Gas, Canada's Most Popular Comedy of All Time, Now Available on Amazon Prime Video in the U.S., U.K, and Over 60 International Territories
Corner Gas, Corner Gas: The Movie and Corner Gas Animated remain exclusively available on Crave in Canada
Beginning today, all 107 episodes of the six-season smash-hit Canadian comedy series Corner Gas and 90-minute film Corner Gas: The Movie are available outside of Canada on Amazon Prime Video, through Prime Video Direct, in over 60 countries and territories, including the U.S., U.K., Australia, New Zealand, Iceland, Denmark, Finland, Sweden, Kenya, South Africa, and the Philippines. In Canada, the Corner Gas live action series, movie and all-new Corner Gas Animated series are available exclusively on Bell Media's Crave SVOD service.
"For years, fans have been asking when the original series and movie would be available on SVOD outside of Canada," said Executive Producer Virginia Thompson. "We couldn't be happier to bring Corner Gas to fans in new corners of the world this holiday season."
Corner Gas centres around the colourful characters of Dog River – a fictional prairie town forty miles from nowhere. The award-winning ensemble cast stars creator, executive producer, showrunner and comedian Brent Butt as Brent Leroy, owner of a roadside service station, and Gabrielle Miller as Lacey Burrows, Eric Peterson as Oscar Leroy, Fred Ewanuick as Hank Yarbo, Janet Wright as Emma Leroy, Lorne Cardinal as Sgt. Davis Quinton, Tara Spencer-Nairn as Constable Karen Pelly, and Nancy Robertson as Wanda Dollard.
The Corner Gas series premiered January 22, 2004 on Canadian broadcaster CTV and was an immediate runaway hit. During its entire six-season run, Corner Gas was the #1 primetime sitcom (Canadian or American) in Canada, maintaining an impressive average audience of 1.4 million viewers over its 107-episode run. The series finale made television history when a record-breaking 3.02 million viewers tuned in on April 13, 2009. It remains the largest audience on record for a Canadian scripted television series.
The series received over 80 award nominations, including an International Emmy nomination. It won seven Gemini Awards including Best Comedy and Best Comedy Ensemble, nine Canadian Comedy Awards, four Writers Guild of Canada Awards, three Directors Guild of Canada Awards and 12 Leos.
The series originally aired in over two dozen countries worldwide, including Superstation WGN in the US, and became a Canadian cultural phenomenon, spawning two chart-topping books, sold-out comedy tours, a successful line of merchandise, a top-selling series of DVDs, a Christmas special and song, dozens of notable guest stars, including two Prime Ministers and a thriving tourist industry in Rouleau, Saskatchewan, where Corner Gas was filmed on location.
Corner Gas: The Movie renewed its love affair with fans in December 2014. The film sold-out theatres across Canada, attracted more than 7 million TV viewers and won the 2016 Golden Screen Award for the most-watched scripted program of the year.
The Corner Gas franchise is produced by Virginia Thompson of Vérité Films, and Brent Butt and David Storey of 335 Productions, in association with commissioning broadcasters CTV and The Comedy Network.
About Prairie Pants Distribution
Prairie Pants Distribution Inc. is the sales agent for Bell Media of the original 107-episode Corner Gas comedy series and the distributor Corner Gas: The Movie and the new Corner Gas Animated. The company is owned by Corner Gas Executive Producers Virginia Thompson, Brent Butt and David Storey.
Broadcast Source: Numeris
CTV electronic audience databases incorporate data beginning in 1994.
Audience prior to August 31, 2009 based on BBM Nielsen Media Research Mark II meters.
Cumulative average audience and overall reach calculated from Dec 8, 2014 to Jan 1, 2015, across CTV Total, CTV Two Total, Comedy, TMN1, TMN3, TMN4, and TMN5.
WEBSITE + SOCIAL MEDIA LINKS:
Website:
cornergas.com/sitcom
Twitter:
@CornerGas
@BrentButt – Brent Butt
@MillerGabrielle – Gabrielle Miller
@FredEwanuick – Fred Ewanuick
@LorneCardinal – Lorne Cardinal
@TSpencerNairn – Tara Spencer Nairn
@NancyRtweets – Nancy Robertson
@cocokoslo – Corrine Koslo
@VirginiaTV – Virginia Thompson
@VeriteCanada
Facebook:
Facebook.com/CornerGasOfficial
Facebook.com/Verite.Films.Canada
Instagram:
@CornerGasOfficial