– Russell Peters, Jann Arden, Chris Hadfield, and EPIC MEALTIME's Harley Morenstein also confirmed to appear in Season 2
– Michael J. Fox to make special guest star appearance
– Season 2 of CORNER GAS ANIMATED returns exclusively to Comedy this spring
January 14, 2019
TORONTO (January 14, 2019) – As announced on Saturday via Twitter, Prime Minister Justin Trudeau is confirmed  to make a stop in Dog River when CORNER GAS ANIMATED returns for Season 2 this spring, only on The Comedy Network. The Prime Minister's cameo appearance in the upcoming season continues a long-running tradition for the franchise, with CORNER GAS welcoming every sitting Prime Minister to Dog River since its inception in 2004.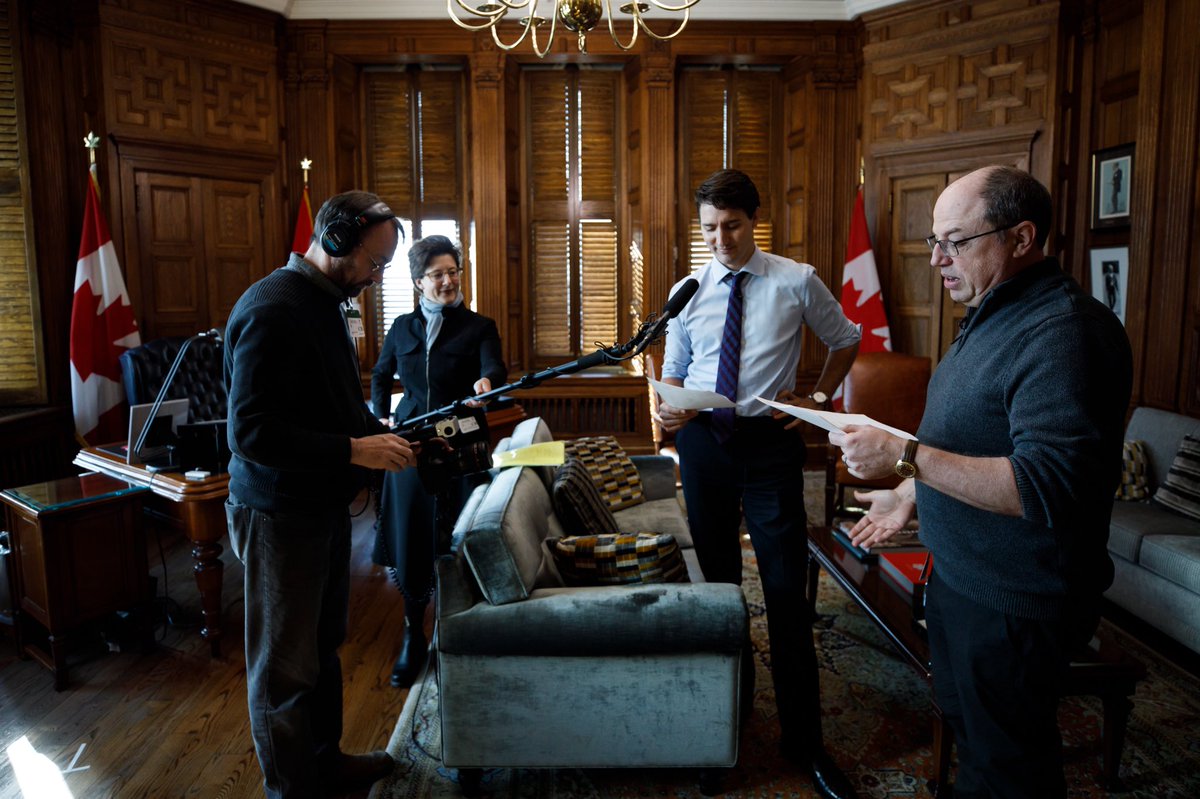 The most-watched original series of all time on Comedy, CORNER GAS ANIMATED returns for a second season with 11 all-new episodes that includes a star-studded lineup of cameos. Joining Prime Minister Justin Trudeau are Chris Hadfield, and EPIC MEALTIME's Harley Morenstein, with a special guest star appearance by Michael J. Fox.
The second season also features Russell Peters, who plays both a forest ranger and a bear in the same episode. As well, from the upcoming CTV Original Comedy series, JANN, Jann Arden returns to the franchise for a second time, guest starring as a University representative who finds herself in Dog River to personally deliver a Doctorate of Philosophy to one of the residents.
"We are ecstatic Prime Minister Trudeau is carrying on the tradition of Canadian Prime Ministers appearing on Corner Gas, following appearances by Stephen Harper and Paul Martin," said Creator, Executive Producer and star Brent Butt. "The PM was great fun to work with and getting to do the recording in his office was a real thrill."
"We are delighted and honoured to have Prime Minister Trudeau visit Dog River. I hope he had a chance to stop at The Ruby for a chili cheese dog before he left," said Corrie Coe, Senior Vice-President, Original Programming. "Brent and the whole talented team have been hard at work to create another funny and charming season of CORNER GAS ANIMATED. And with this stellar lineup of cameos, Comedy will surely have another smash-hit season for fans when the series returns this spring."
Debuting in April 2018, Season 1 of CORNER GAS ANIMATED was a ratings hit. The premiere episode was the most-watched series premiere in Comedy's history and Season 1 concluded as the most-watched series of the broadcast year on Comedy among total viewers and all key demos (A18-34, A18-49, and A25-54).
Season 1 of CORNER GAS ANIMATED and all 107 episodes of the six-season original series, as well as the feature film, are streaming now on Crave. The live action series is also available on Amazon Prime Video in the US, UK, and over 60 international territories.
CORNER GAS ANIMATED is an inter-provincial co-production produced by Prairie Pantoons (BC), comprised of Brent Butt and David Storey from 335 Productions; and Moving Mountoons (ON), comprised of Virginia Thompson and Robert de Lint from Vérité Films, in association with Bell Media, Canada Media Fund, Ontario Film and Television Tax Credit, Ontario Computer Animation and Special Effects Tax Credit, Film Incentive BC Tax Credit, Digital Animation, Visual Effects and Post Production Tax Credit, Canadian Film or Video Production Tax Credit. Animation is produced by Prairie Pantoons, Moving Mountoons, and Smiley Guy Studios. Sarah Fowlie is Director, Original Programming, Comedy, Bell Media. Production Executive for Bell Media is Chris Kelley. Corrie Coe is Senior Vice-President, Original Programming, Bell Media. Mike Cosentino is President, Content and Programming, Bell Media. Randy Lennox is President, Bell Media.