The Comedy Network Gets Pumped with the Debut of CORNER GAS ANIMATED, Monday, April 2
– Comedy also reveals brand-new artwork of the entire cast –
– The animated reboot airs Mondays at 8 p.m. ET/PT on Comedy –
– The entire CORNER GAS series and Corner Gas: The Movie are streaming now on CraveTV.
"Anyone who fails to appreciate the exquisite comical whimsy and admire the stunning popular success of CORNER GAS is a jackass." – John Doyle, The Globe & Mail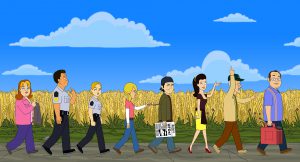 To tweet this release: http://bmpr.ca/2E2PIrO
TORONTO (February 5, 2018) – As announced during last night's SUPER BOWL LII broadcast on CTV, the much-anticipated CORNER GAS ANIMATED series comes to life on The Comedy Network beginning Monday, April 2 at 8 p.m. ET/PT. Created by and starring comedian Brent Butt, the 13-episode, half-hour reboot of the iconic Canadian series sees the return of all the beloved characters of Dog River, Saskatchewan, as they partake in new adventures in an expanded animated universe. Brent (Brent Butt), Lacey (Gabrielle Miller), Oscar (Eric Peterson), Hank (Fred Ewanuick), Davis (Lorne Cardinal), Karen (Tara Spencer-Nairn), Wanda (Nancy Robertson), and Emma (Corrine Koslo) all get a cartoon makeover in the all-new comedy.
Click here for a look at the promo. For updates on all things CORNER GAS, including CORNER GAS ANIMATED merchandise as well as Limited Collectors' Editions, events, and news, visit cornergas.com.
"With CORNER GAS' built-in audience, Mondays at 8 p.m. is sure to be the next tent pole timeslot for The Comedy Network," said Pat DiVittorio, Vice-President, CTV and Specialty Programming, Bell Media. "We know devoted fans will love this fresh take on a cherished series which is sure to be an audience-builder for the network."
"I'm excited! Comic books, cartoons, and drawing have always been in my DNA," said Creator, Executive Producer and star Brent Butt. "The original series really lends itself to being animated. The humour, the warmth, the antics and cast have all found their way into the new animated show. It feels like CORNER GAS and I couldn't be happier. I can't wait to unveil CORNER GAS ANIMATED. Tune in Easter Monday!"
In the premiere episode, "Bone Dry," Brent messes up a fuel order and Corner Gas runs out of gas, and Oscar (Eric Peterson) steals all the food at the station to teach his son a lesson. No gas and no food cause locals to panic. Lacey (Gabrielle Miller) takes advantage of the situation by offering "exotic" recipes at the Ruby. Meanwhile, Hank (Fred Ewanuick) and Wanda (Nancy Robertson) make fuel out of corn but catch the suspicions of Karen (Tara Spencer-Nairn) and Davis (Lorne Cardinal), who think their experiment is a little less corny and a little more BREAKING BAD.
All 107 episodes of the six-season original series, as well as the feature film, are streaming now on CraveTV.
CORNER GAS ANIMATED is an inter-provincial co-production produced by Prairie Pantoons (BC), comprised of Brent Butt and David Storey from 335 Productions; and Moving Mountoons (ON), comprised of Virginia Thompson and Robert de Lint from Vérité Films, in association with Bell Media, Canada Media Fund, Ontario Film and Television Tax Credit, Ontario Computer Animation and Special Effects Tax Credit, Film Incentive BC Tax Credit, Digital Animation, Visual Effects and Post Production Tax Credit, Canadian Film or Video Production Tax Credit. Animation is produced by Prairie Pantoons, Moving Mountoons, and Smiley Guy Studios. Sarah Fowlie is Director, Original Production, Comedy, Bell Media. Executive for Bell Media is Chris Kelley. Corrie Coe is Senior Vice-President, Original Production, Bell Media. Pat DiVittorio is Vice-President, CTV and Specialty Programming; Mike Cosentino is President, Content and Programming, Bell Media. Randy Lennox is President, Bell Media.
SOCIAL MEDIA LINKS:
Twitter:
The Comedy Network on Twitter – @CornerGas
@BrentButt – Brent Butt
@MillerGabrielle – Gabrielle Miller
@FredEwanuick – Fred Ewanuick
@LorneCardinal – Lorne Cardinal
@TSpencerNairn – Tara Spencer Nairn
@NancyRtweets – Nancy Robertson
@cocokoslo – Corrine Koslo
@VirginiaTV – Virginia Thompson
@VeriteCanada
Facebook:
Facebook.com/CornerGasOfficial
The Comedy Network on Facebook
Facebook.com/Verite.Films.Canada
Instagram:
@CornerGasOfficial
About Bell Media Independent Production
Bell Media has commissioned some of Canada's most-watched and most-acclaimed original programming, working with the best Canadian independent producers in the country. Hit series commissioned by CTV include the hit drama CARDINAL, the record-breaking THE AMAZING RACE CANADA and MASTERCHEF CANADA, new original series THE DISAPPEARANCE, THE INDIAN DETECTIVE, and THE DETAIL, and the international TV format THE LAUNCH. Among the original series on Bell Media specialty and streaming platforms are Space's KILLJOYS and WYNONNA EARP; CraveTV hit comedy LETTERKENNY; Discovery's first-ever drama FRONTIER; Comedy's satirical news series THE BEAVERTON as well as the upcoming CORNER GAS ANIMATED; and multiple series and specials for food and lifestyle channel Gusto, including ONE WORLD KITCHEN. Discovery is also home to Bell Media's hit factual franchise HIGHWAY THRU HELL, HEAVY RESCUE: 401, and CANADA'S WORST DRIVER, among others. Bell Media is one of the first media companies in North America to commit to producing all new original scripted series in 4K.
About The Comedy Network
Canada's first specialty comedy service, The Comedy Network airs comedy of all kinds, 24-hours-a-day, across multiple platforms, including a revolutionary broadband service at thecomedynetwork.ca. Launched in October 1997, Comedy broadcasts, uncut and uncensored, an eclectic mix of scripted, stand-up, sketch, improv, and animated comedy – as well as topical comedy talk shows, game shows and classic situation comedies. Offering an unrivalled slate of original Canadian programming, Comedy reinvests nearly 50 per cent of its revenues into home-grown productions. Comedy is a division of Bell Media, which is owned by BCE Inc. (TSX, NYSE: BCE), Canada's largest communications company, and is available in nearly six million households across the country.
– Comedy –
For more information, please contact:
Andrea Allen, The Comedy Network, 416-384-5375 or andrea.allen@bellmedia.ca
Mary Costa, The Comedy Network, 416-384-7702 or mary.costa@bellmedia.ca