Brent Butt interview: 'Corner Gas Animated' star talks about his hit TV revival
Canadian comedian was careful to not do anything that would 'damage the legacy' of the original series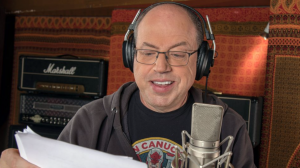 When I catch up with comedian Brent Butt, he's ensconced in a Toronto production studio, putting the finishing touches on Corner Gas Animated. As creator, co-executive producer and star, he's under a lot of pressure to capture the spirit of the original sitcom, yet also have it stand on its own in a new, animated format.
The original Corner Gas — set in the sleepy, fictional town of Dog River, Saskatchewan — ran for six seasons on CTV between 2004-2009. The sitcom was a rare homegrown hit, watched by an average of a million viewers every week. Enviable numbers for any TV series, and particularly massive for a Canadian show. It even led to a theatrical film in 2014, which wrapped up the series, and drew 1.84 million viewers when it was shown on TV.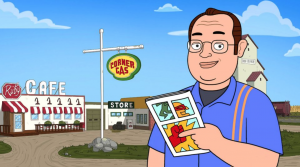 Expectations are high for Corner Gas Animated, and it fortunately lived up to them in its premiere last week, drawing over 280,000 overnight viewers, becoming the most-watched Canadian series debut in the history of The Comedy Network.
Congratulations on the new series, Brent. What was your motivation behind reviving Corner Gas after all these years? Was there something creatively that you felt you didn't achieve with the show's original run?
BRENT BUTT It was the notion of being employed that was a motivating factor. The response to the Corner Gas movie was unexpected and huge, so CTV called up and asked if we wanted to do more episodes. My partners and I didn't want to grind the concept into the dust, and we decided that if we were going to do something, we were going to do something differently.
So, why did animation come to mind? It's not the most obvious leap.
BRENT BUTT We've kicked around doing a fully animated moment in Corner Gas years ago, actually. The closest we came to realize it was a LEGO stop motion scene in season three during a dream sequence. We were careful not to do anything that didn't work or would damage the legacy of Corner Gas. We wrote up a couple of scripts and produced a three-minute demo. Every step of the way, the process felt natural and organic.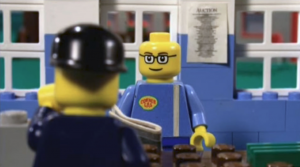 There's also the issue that Corner Gas: The Movie wraps up the series in a major way. You seem to deal with it by setting the animated series well before the movie. When does the animated show take place?
BRENT BUTT It's nebulous. The show takes place somewhere in the middle of the series in terms of where the characters are at. But it's also present day, you know, the characters have smartphones. It picks up on the show's main theme that in this small rural farming town nothing changes. On every Corner Gas episode, we could justify almost anything happening, if by the end of the show everything ends up staying the same. Even though it takes place today, it could be as if it were taking place 10 years ago.
What new comedic opportunities exist now that the show is animated?
BRENT BUTT There were more freedoms and not really any limitations. For example, we couldn't have done the pop-up fantasy scene between a Sasquatch and a unicorn. I mean, we could with CGI I suppose, but in the live-action show, we were limited by budget, timeframe and the laws of society and physics. In one of the episodes, we have a scene imagining a barren apocalypse with Mad Max dune buggies because the underground gas tanks are empty because Brent forgot to book a refill. It's a funny idea that we couldn't realistically do in live-action. It still took a lot of work, a lot of talented artists working late into the night, but we can realize those kinds of ideas now.
One of the lead cast members, Janet Wright, who played your mother on the series, passed away in 2016. How did that effect the production?
BRENT BUTT When Janet passed away, it blindsided us. We didn't know what to do. My first idea was talk to Janet's husband and ask how he thought she would want us to proceed. Should we keep her in the series or should we write her out? He was emphatic that she would want the Emma character to live on. He also suggested that we audition Corinne Coslow, a good friend of hers, who has a similar timbre, and knew Janet really well. During her audition, we wrote a typical scene with Oscar and Emma arguing about something, and another with a more heartfelt moment between them. The chemistry between her and Eric Peterson, who plays Oscar, worked. She not only sounded a lot like Janet, but brought her own take on the character.
You also united the cast in the recording studio. Why was that important, especially since you can now record each of the actors separately?
BRENT BUTT Some of the cast lives in Vancouver and the other in Toronto, so we set up the recording to do it in the real time with the entire cast. They link us up with phone lines and internet and stuff. You can't overstate how much the chemistry of the actors acting together was responsible for the success of Corner Gas. We tried to capture the lightning in a bottle of having each of the characters together. I think without that, you'd lose the magic.
Source: https://popj.ca/news/brent-butt-corner-gas-animated