MEDIA ALERT:
JUNE 14, 2018

CORNER GAS ANIMATED and Saskatchewan Roughriders Pump It Up
– Iconic Canadian brands collaborate in time for season home opener, June 15, with the Roughriders hosting the Toronto Argonauts airing live at 8:30 pm ET / 6:30 p.m. CT on TSN –
– Season 1 of CORNER GAS ANIMATED joins CTV summer schedule Sundays at 8:30 p.m. ET/MT, beginning June 17. New episodes currently air Mondays at 8 p.m. ET/PT on The Comedy Network –
– CORNER GAS ANIMATED renewed for a second season –
To tweet this release: https://bit.ly/2Mr2DZb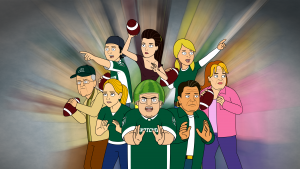 REGINA (June 14, 2018) – It's a big weekend for CORNER GAS fans as CORNER GAS ANIMATED and the Saskatchewan Roughriders announce a new collaboration beginning with the season home opener on Friday, June 15, just days before the new series makes its broadcast debut on CTV on Sunday, June 17.
To download video of CORNER GAS ANIMATED cheering Roughriders, click here
In the new CORNER GAS ANIMATED collaboration with the Saskatchewan Roughriders, the two Canadian icons have banded together to share Rider Pride just in time for the season home opener as the Roughriders host the Toronto Argonauts, airing live at 8:30 p.m. ET / 6:30 p.m. CT on TSN. Elements of the collaboration include:
On-screen content featuring CORNER GAS ANIMATED cast cheering on the Riders in Regina's Mosaic Stadium;
Rider t-shirts featuring CORNER GAS ANIMATED characters, will be available for sale in coming weeks at The Rider Store (the Saskatchewan Roughriders official store) and online at theriderstore.ca, as well as other retail outlets;
CFL and Rider participation in the CORNER GAS ANIMATED Anagram Contest featuring a trip for two to Regina, tickets to a Saskatchewan Roughriders home game, the Dog River Experience Tour, CORNER GAS ANIMATED merchandise, and other prizes. Contest details at cornergas.com
"The Riders and Corner Gas are incredible brands with incredible fans – it's a perfect fit," said Executive Producer Virginia Thompson. "We hope to be able to have more opportunities to work with the team and the league."
"It's no secret I'm a big Roughriders fan. Comic books, cartoons, and the Riders are part of my DNA," said Creator, Executive Producer and star Brent Butt. "I am absolutely thrilled about this new collaboration."
"We feel Corner Gas and the Saskatchewan Roughriders are two iconic brands that are not only beloved in the province of Saskatchewan, but throughout Canada," said Chief Brand Officer with the Saskatchewan Roughriders, Anthony Partipilo. "The fact that Corner Gas has chosen to continue to align with the show's roots here in Saskatchewan and with the Riders, is special for both of us.  We are excited for Rider Nation and Canada to see their favourite characters from the show still cheering on Canadas team."
CORNER GAS ANIMATED joins CTV's summer schedule on Sundays at 8:30 p.m. ET/MT on CTV and CTV GO, beginning June 17. The half-hour comedy continues to air Mondays at 8 p.m. ET/PT on The Comedy Network.
As previously announced, The Comedy Network has renewed CORNER GAS ANIMATED for a second season.
Created by and starring comedian Brent Butt, the half-hour series features all the beloved characters of Dog River, Saskatchewan, as they partake in new adventures in an expanded animated universe.
For updates on all things CORNER GAS, including CORNER GAS ANIMATED merchandise as well as Limited Collectors' Editions, events, and news, visit cornergas.com.
CORNER GAS ANIMATED is an inter-provincial co-production produced by Prairie Pantoons (BC), comprised of Brent Butt and David Storey from 335 Productions; and Moving Mountoons (ON), comprised of Virginia Thompson and Robert de Lint from Vérité Films, in association with Bell Media, Canada Media Fund, Ontario Film and Television Tax Credit, Ontario Computer Animation and Special Effects Tax Credit, Film Incentive BC Tax Credit, Digital Animation, Visual Effects and Post Production Tax Credit, Canadian Film or Video Production Tax Credit. Animation is produced by Prairie Pantoons, Moving Mountoons, and Smiley Guy Studios. Sarah Fowlie is Director, Original Production, Comedy, Bell Media. Executive for Bell Media is Chris Kelley. Corrie Coe is Senior Vice-President, Original Production, Bell Media. Pat DiVittorio is Vice-President, CTV and Specialty Programming; Mike Cosentino is President, Content and Programming, Bell Media. Randy Lennox is President, Bell Media.
About Bell Media Independent Production
Bell Media has commissioned some of Canada's most-watched and most-acclaimed original programming, working with the best Canadian independent producers in the country. Hit series commissioned by CTV include the hit drama CARDINAL, the record-breaking THE AMAZING RACE CANADA and MASTERCHEF CANADA, original series THE DISAPPEARANCE, THE INDIAN DETECTIVE, and the international TV format THE LAUNCH. Among the original series on Bell Media specialty and streaming platforms are Space's KILLJOYS and WYNONNA EARP; CraveTV hit comedy LETTERKENNY; Bravo's mystery drama CARTER; Discovery's first-ever drama FRONTIER; Comedy's satirical news series THE BEAVERTON as well as CORNER GAS ANIMATED; and multiple series and specials for food and lifestyle channel Gusto, including ONE WORLD KITCHEN. Discovery is also home to Bell Media's hit factual franchise HIGHWAY THRU HELL, HEAVY RESCUE: 401, and CANADA'S WORST DRIVER, among others. Bell Media is one of the first media companies in North America to commit to producing all new original scripted series in 4K.
About The Comedy Network
Canada's first specialty comedy service, The Comedy Network airs comedy of all kinds, 24-hours-a-day, across multiple platforms, including a revolutionary broadband service at thecomedynetwork.ca. Launched in October 1997, Comedy broadcasts, uncut and uncensored, an eclectic mix of scripted, stand-up, sketch, improv, and animated comedy – as well as topical comedy talk shows, game shows and classic situation comedies. Offering an unrivalled slate of original Canadian programming, Comedy reinvests nearly 50 per cent of its revenues into home-grown productions. Comedy is a division of Bell Media, which is owned by BCE Inc. (TSX, NYSE: BCE), Canada's largest communications company, and is available in nearly six million households across the country.
About The Canadian Football League
Today's CFL is more than just our great game of football. It's fans sharing their excitement for what they see on the field, and what they experience off it. Stay up to date on all the non-stop action at CFL.ca and join all of Canada as we celebrate the 106th Grey Cup, presented by Shaw, this November in Edmonton. The CFL regular season kicks off a week earlier this year on Thursday, June 14th, when the Winnipeg Blue Bombers host the Edmonton Eskimos at Investors Group Field. Friday Night Football debuts June 15th when the Saskatchewan Roughriders host the reigning Grey Cup champions, the Toronto Argonauts. On Saturday, June 16th, the first double-header of the season starts with the Hamilton Tiger-Cats heading west to take on the Calgary Stampeders and the finale for Week 1 consists of the Montreal Alouettes playing against the BC Lions at BC Place. For single-game tickets, click here.
SOCIAL MEDIA LINKS:
Twitter:
@BrentButt – Brent Butt
@MillerGabrielle – Gabrielle Miller
@FredEwanuick – Fred Ewanuick
@LorneCardinal – Lorne Cardinal
@TSpencerNairn – Tara Spencer Nairn
@NancyRtweets – Nancy Robertson
@cocokoslo – Corrine Koslo
@VirginiaTV – Virginia Thompson
Facebook:
Facebook.com/CornerGasOfficial
The Comedy Network on Facebook
Facebook.com/Verite.Films.Canada
Instagram:
– End –
For more information, please contact:
Margaret Sirotich, Corner Gas Animated, 647-466-1746 or msirotich@sympatico.ca
Miriam Johnson, Saskatchewan Roughriders, 306-569-2323, Miriam.johnson@saskriders.com
Lucas Barrett, Canadian Football League, 416-865-4066, lbarrett@cfl.ca
Christy Sullivan, TSN, 416-384-3624, christy.sullivan@bellmedia.ca
Jesse Wanagas, The Comedy Network, 416.384.3193, jesse.wanagas@bellmedia.ca