'Corner Gas' is back and better than ever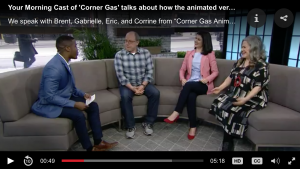 Click the image to watch the video!
It's been nearly nine years since beloved Canadian comedy Corner Gas said goodbye to its loyal viewers, but now it's back and better than ever…with an entirely different look.
Corner Gas Animated is bringing the beloved characters of Dog River, Saskatchewan back together to take on new adventures in an animated world.
Brent Butt, Gabrielle Miller, Eric Peterson, and Corrine Koslo dropped by the Your Morning studio to reveal how the animated reboot came to be and what the experience has been like.