How the 'Corner Gas' cast felt about seeing the animated versions of themselves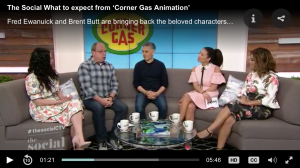 Click the video to watch!
The beloved characters of Dog River, Saskatchewan are coming back for a Corner Gas reboot with one big catch—this time, they're animated.
Corner Gas was the number one sitcom in Canada throughout its entire six-season run. The anticipated 13-episode series was created by, and stars, Brent Butt. He recently returned to The Social with his co-star, Fred Ewanuick, to give us a little sneak peek.
Watch in the clip above as Brent and Fred talk about their return to the show and what it was like to see them in animated form.
'Corner Gas Animated' premieres on Monday, April 2 at 8 p.m. ET on Comedy and you can catch up on every episode of the original series (and the movie) on CraveTV.