CORNER GAS Set to be Dismantled Today Self-Directed Walking Tour of Dog River to Launch Summer 2017
ROULEAU, SASKATCHEWAN (November 4, 2016) – The iconic CORNER GAS set will be dismantled beginning at 9 am MT today, the producers of the series confirmed today. The announcement was made as producers and the Town of Rouleau finalize plans on a Dog River Walking Tour in Summer 2017. The producers also confirmed discussions continue with Saskatchewan's Western Development Museum (WDM) about a possible donation of iconic pieces from the CORNER GAS set.
The Gas Station and The Ruby are the epicentre of the fictional town of Dog River featured in the wildly popular franchise that includes Corner Gas: The Movie and six seasons of the CTV televised series CORNER GAS. Located at the junction of Highway 39, Weckman Drive and 1st Avenue, approximately 65 km southwest of Regina, the set has become a popular tourist destination.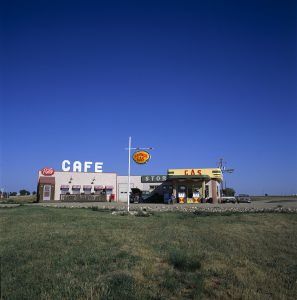 The set was built as temporary structures in the summer of 2003 to shoot 13 episodes of the TV series over the course of a summer. When the show became an overnight sensation, the set's life was extended to accommodate six seasons and a movie. But time and the elements have taken their toll. Built on a bog, the structures have been sinking over the years and the foundation is beyond repair. The set is no longer safe for public use and will therefore be dismantled on November 4, when the lease on the property expires.
"A big thank you to the Town of Rouleau and the Western Development Museum for their support of CORNER GAS," said Executive Producer Virginia Thompson. "Though the original structure must come down, as it simply wasn't built to last, we are glad a walking tour of the town will be in place for the summer of 2017"
"We are thrilled CORNER GAS fans can visit our town and enjoy the Dog River Walking Tour and the many memorable CORNER GAS locations," said Mayor of Rouleau Grant Clarke. We are very pleased that Rouleau will continue to be a tourist destination."
"The WDM is about preserving Saskatchewan stories – and CORNER GAS is well worth preserving. We are delighted to work with the producers on preserving iconic pieces of the set," said WDM CEO Joan Kanigan.
 About the Dog River Walking Tour & Commemorative Sign in Rouleau:
Next summer, the producers, in association with the Town of Rouleau, have plans to erect a CORNER GAS commemorative sign and detailed map of the Dog River Walking Tour. Fans can visit Rouleau and take a one-hour self-guided tour, which includes: the original site of the gas station, downtown Dog River, Oscar & Emma's house, grain elevator, water tower and CORNER GAS character cutouts for photo opportunities. Postcard-sized maps will be available at the town hall and for download at cornergas.com.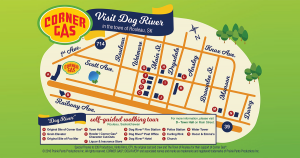  About the donation to the Western Development Museum:
The producers are discussing donating iconic props, such as the CORNER GAS sign and Hank's truck, to the Western Development Museum (WDM). Does this mean the end of CORNER GAS? According to Creator, Executive Producer Brent Butt, "We had a wonderful experience making the movie and the series, and we love our fans. I'm a firm believer in never closing doors."
 About the CORNER GAS Franchise:
The smash hit Canadian television franchise CORNER GAS is an entertaining depiction of small-town life in the Canadian Prairies.
Winner of the 2016 Golden Screen Award for the most-watched Canadian Drama / Comedy Program, Corner Gas: The Movie renewed its love affair with fans in December 2014. Just as it did when it began 10 years ago, the smash hit Canadian television franchise CORNER GAS continued to blaze new trails.
Corner Gas: The Movie sold out theatres across Canada, reaching nearly 60,000 moviegoers, 7 million TV viewers and more than 130,000 video starts. It achieved tens of millions of social media impressions, and sold over 60,000 DVD and Blu-ray units.
CORNER GAS the television series was created by Brent Butt and executive produced by Brent Butt, David Storey, and Virginia Thompson for CTV and The Comedy Network. It premiered January 22, 2004 on CTV with 1.15 million viewers and was a runaway hit. Dog River soon became a favourite Canadian television destination. During its entire six-season run, CORNER GAS was the #1 Canadian sitcom in Canada, maintaining an impressive average audience of 1.4 million viewers over its 107-episode run. The series finale made television history when a record-breaking 3.02 million viewers tuned into the series finale on April 13, 2009. It was a new audience high for CORNER GAS and is still the largest audience on record for a Canadian scripted television series.
The series received over 80 nominations for numerous awards, including an International Emmy nomination. It won the prestigious Golden Screen Award for TV Drama/Comedy at the 2016 Canadian Screen Awards and garnered seven Gemini Awards including Best Comedy and Best Comedy Ensemble, as well as nine Canadian Comedy Awards, four Writers Guild of Canada Awards, three Directors Guild of Canada Awards and 12 Leos.
It aired in over two dozen countries worldwide and became a Canadian cultural phenomenon, spawning two chart-topping books, sold-out comedy tours, a successful line of clothing and merchandise, a top-selling series of DVDs, a Christmas special and song, dozens of notable guest stars, including two Prime Ministers and a thriving tourist industry in Rouleau, Saskatchewan, where CORNER GAS was filmed on location.
The CORNER GAS franchise is produced by Prairie Pants Productions, comprised of Vérité Films and 335 Productions, in association with Bell Media, The Canada Media Fund, Telefilm Canada, Tourism Saskatchewan, Cogeco, Creative Saskatchewan, Cineplex Entertainment, Ontario Media Development Corporation Film Fund, the Bell Fund, Canadian Film or Video
Production Tax Credit, Ontario Film and Television Tax Credit, and Prairie Pants Distribution Inc. CORNER GAS is distributed worldwide by CTV and Prairie Pants Distribution.
WEBSITE:
SOCIAL MEDIA LINKS: