Corner Gas: The Movie Wins 2016 Golden Screen Award for highest rated scripted program in Canada
– More than 7 million TV viewers,
– over 130,000 video starts,
– tens of millions social media impressions – sold-out theatres across Canada,
– over 60,000 DVD and Blu-ray units sold
TORONTO (March 14, 2016) – Corner Gas: The Movie won the esteemed Golden Screen Award for most-watched TV Drama / Comedy in Canada at the 2016 Canadian Screen Awards last night.  The annual award celebrates the homegrown television show that Canadians love the most.  Illustrious contenders for this year's award included The Book of Negroes, Murdoch Mysteries, Rookie Blue and Saving Hope. Corner Gas: The Movie was also nominated in the Best Cross-Platform Project (Fiction) category. The Canadian Screen
Since its debut, CORNER GAS the television series garnered seven Gemini Awards –including Best Comedy Series, nine Canadian Comedy Awards, four Writers Guild of Canada Awards, three Directors Guild of Canada Awards and 12 Leos. In total the series received well over 70 award nominations including an International Emmy nomination
The 90-minute feature film established a groundbreaking event distribution model that gave fans the opportunity to experience the film on multiple platforms over three weeks in December 2014. The forward-thinking innovative project engaged viewers in all regions of the country, promoting Canadian content and supporting homegrown talent. Each platform offered audiences an exclusive CORNER GAS experience during the holiday season, including a Cineplex Front Row Centre Event, followed by premieres on CTV, CTV Two, The Comedy Network, The Movie Network, CTV GO, CraveTV, and a DVD/Blu-ray release. The result was maximum exposure for fans across the country and astonishing audience engagement:  more than 7 million TV viewers: over 130,000 video starts; tens of millions social media impressions; sold-out theatres across Canada; over 60,000 DVD and Blu-ray units sold.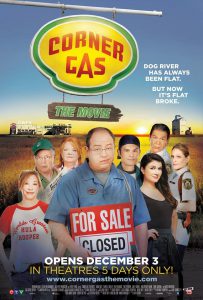 "Corner Gas: The Movie was a passion project for Brent Butt, David Story, myself, and the entire cast and crew," said Executive Producer Virginia Thompson. "Our goal was to give fans a chance to be part of our movie, and to thank them for their love of our show. We're thrilled Canadians embraced the film in record numbers, and we can't thank Bell Media enough for their support. It's a great honour to capture this top prize at Canadian Screen Awards."
Headlined by creator and comedian Brent Butt, Corner Gas: The Movie stars the original award-winning ensemble cast including Gabrielle Miller, Eric Peterson, Fred Ewanuick, Janet Wright, Lorne Cardinal, Tara Spencer-Nairn, and Nancy Robertson. Written by Brent Butt, Andrew Carr, and Andrew Wreggitt, and directed by David Storey, who served as key director on the series, the movie was shot in Saskatchewan in June/July 2014.
About the CORNER GAS franchise
Corner Gas: The Movie made its sold-out theatrical debut as a Cineplex Front Row Centre Event opening in 102 Cineplex, Landmark, and independent theatres, December 3-7, 2014. The movie returned by popular demand to 38 select theatres, December 12-14, 2014. Nearly 60,000 moviegoers attended the eight-day engagement for a total box office gross of $694,212, making it one of the most popular attractions of the year for a Canadian movie.
Following its theatrical release, Corner Gas: The Movie returned to the network that made the franchise a household name. Broadcast premieres on CTV and CTV Two (Dec. 17, 2014), The Comedy Network (Dec. 22, 2014) and The Movie Network (Dec. 8-13, 2014) delivered a cumulative average audience of 3.3 million viewers, with an overall reach of 7.38 million viewers who watched some or all of the movie.
CORNER GAS the television series was originally developed a decade earlier by Brent Butt, Mark Farrell, David Storey, and Virginia Thompson for CTV and The Comedy Network. It premiered January 22, 2004 on CTV with 1.15 million viewers and was a runaway hit. Dog River soon became a favourite Canadian television destination. During its entire six-season run, CORNER GAS was the #1 Canadian sitcom in Canada, maintaining an impressive average audience of 1.4 million viewers over its 107-episode run. The series finale made television history when a record-breaking 3.02 million viewers tuned into the series finale on April 13, 2009. It was a new audience high for CORNER GAS and is still the largest audience on record for a Canadian scripted television series.
The series received over 80 nominations for numerous awards, including an International Emmy nomination. It won seven Gemini Awards including Best Comedy and Best Comedy Ensemble, as well as nine Canadian Comedy Awards, four Writers Guild of Canada Awards, three Directors Guild of Canada Awards and 12 Leos.
The series aired on Superstation WGN in the US and in over two dozen countries worldwide. It became a Canadian cultural phenomenon, spawning two chart-topping books, sold-out comedy tours, a successful line of clothing and merchandise, a top-selling series of DVDs, a Christmas special and song, dozens of notable guest stars, including two Prime Ministers and a thriving tourist industry in Rouleau, Saskatchewan, where CORNER GAS was filmed on location. Corner Gas: The Movie is an inter-provincial co-production produced by Corner Gas The Movie (ON) Inc. and Corner Gas The Movie (SK) Inc. in association with Telefilm Canada, Bell Media, Cineplex Entertainment, Tourism Saskatchewan, Creative Saskatchewan, Canada Media Fund, Cogeco, Ontario Media Development Corporation Film Fund, the Bell Fund, Canadian Film or Video Production Tax Credit, Ontario Film and Television Tax Credit Program, and Prairie Pants Distribution Inc. CORNER GAS is distributed worldwide by Prairie Pants Distribution. The collector's DVD and Blu-ray is distributed in Canada by Video Services Corp. (VSC).
WEBSITE:
SOCIAL MEDIA LINKS:
About Prairie Pants Distribution, Inc.
Prairie Pants Distribution is the world-wide distributor of Corner Gas: The Movie. The company is owned and operated by CORNER GAS Executive Producers Brent Butt (Sparrow Media: CORNER GAS, HICCUPS and NO CLUE), David Storey (Aslan Entertainment: CORNER GAS, HICCUPS, KEEP YOUR HEAD UP KID: THE DON CHERRY STORY, BLACKFLY) and Virginia Thompson (Vérité Films: CORNER GAS, INSECURITY, RENEGADEPRESS.COM and INCREDIBLE STORY STUDIO).